In the two recent years since the murder of George Floyd which sparked worldwide protest, Diversity Equity and Inclusion (DEI) initiatives have become a major focus for companies wanting to address issues revolving inequities in the workplace. Although DEI has been an existing effort for decades, we are finally seeing a robust commitment from employers to prioritize DEI initiatives, which means, DEI is new to many. Our goal is to provide some insight on what exactly DEI stands for and why it exists , as well as provide some data that supports the reason for its existence and initiatives.
Diversity, Equity & Inclusion:
Diversity: The presence of differences within a given setting. In the workplace, that can mean differences in race, ethnicity, gender, gender identity, sexual orientation, age and socioeconomic class.

Equity: The act of ensuring that processes and programs are impartial, fair and provide equal possible outcomes for every individual.

Inclusion: The practice of ensuring that people feel a sense of belonging in the workplace. This means that every employee feels comfortable and supported by the organization when it comes to being their authentic selves
Reinforcing robust DEI programs aids every employee from administration to the janitors in the building, show up each day without fear of being their authentic selves. This promotes and stimulates higher degrees of engagement, productivity, and innovation that contribute to increased revenue.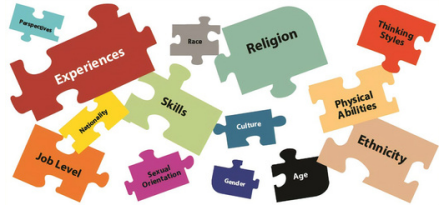 Diversity education started in the 1960s as a way to combat the lingering racial tensions between black, brown, and white people as a result of the civil rights movement, a multiracial coalition made up of African Americans, Latinx and Chicano/a Americans, Asian Americans, and Native Americans. Apr 15, 2020.
By providing equal access to education, companies have the opportunity to promote diversity and inclusion, which is a win-win-win for organizations, individuals and society. Benefits from these initiatives include more sales revenue and innovation, increased social mobility and employee engagement, as well as higher profits.
Here are a few Workplace Inclusivity statistics to help gain perspective:
78% of employees who responded to a Harvard Business Review study said they work at organizations that lack diversity in leadership positions. (HBR)

45% of American workers experienced discrimination and/or harassment in the past year. (Gallup)

Inclusive companies are 1.7 times more likely to be innovative. (Josh Bersin)

Inclusive companies get 2.3 times more cash flow per employee. (Josh Bersin)

Millennials are 83% more likely to be engaged at work at inclusive companies. (Deloitte)